China: import is growing and gives new opportunities to international retailers
---
According to Deloitte, "China's economic growth model is becoming more focused on consumption. This will present an opportunity for international producers as innovation and technological advances reshape the retail value chain."
There are different reason that make this market a more and more interesting one for export. As Deloitte goes on explaining, in fact, with the deepening of reform and economic expansion, China's consumer market will embrace international producers with renewed openness and dynamism. "Stimulated by strong consumer demand – Deloitte experts say – overseas brands will enter a new era of opportunity."
The economic contribution and growth rates of China's FCE exceed the consumer goods markets in the United States, the Eurozone, and Japan. Between 2013 and 2016, the average annual contribution of China's FCE to global consumption growth was 23.4 percent, higher than that of the United States (23 percent), Eurozone (7.9 percent), and Japan (2.1 percent) (figure 1). Over the same period, China's annual FCE growth rate of 7.5 percent was also higher than FCE growth in the United States (2.2 percent), Eurozone (1 percent), and Japan (0.6 percent). This shows China's outstanding contribution to global consumption.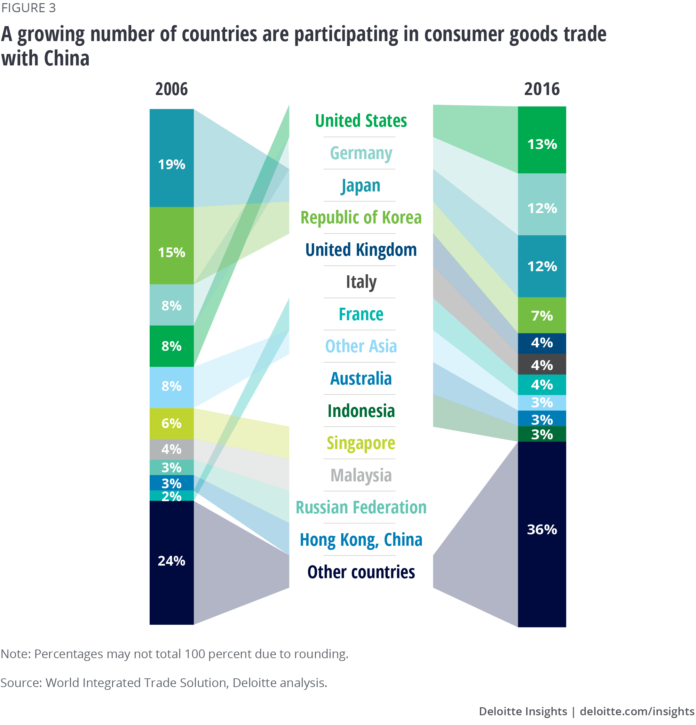 Import to China is growing fast. With improved spending power and sustained progress in opening-up, China has been steadily increasing its proportion of imported consumer goods. According to data from the World Integrated Trade Solution (WITS), China's consumer goods imports accounted for about 2 percent of the global total in 2006. By 2016, the proportion reached 4.4 percent, and the absolute value of China's consumer goods imports in USD had reached 2.7 times that in 2006.
A very key role in this trend is that of technology, that has given retail new opportunities.
"The innovation and popularization of retail technology based on a series of underlying technologies, including cloud computing, the Internet of Things, big data, and artificial intelligence (AI), are driving the entire retail ecosystem to become more digitized, intelligent, and efficient. This gives retail market participants the opportunity to connect and interact seamlessly with consumers across multiple channels. It is also enabling market participants to optimize and integrate their supply chains with real-time, multidimensional data, improving their operational efficiency and customer service and making them more competitive in the process of reshaping the value chain."
Moreover, digital marketing has a very big influence on consumers' perception of and demand for goods: e-commerce websites, social media, and multiple on-line services (information/entertainment/search) have become important channels for influencing and attracting consumers, and interactive content has become an essential element of on-line marketing. All these changes give high-quality, diversified imported brands more opportunities to influence consumers directly. Support from digital media is particularly important for brands and categories that lack exposure in China.
This positive trend also involves the advanced categories of technical consumer goods.
"In 2017 – Deloitte explaines – the growth in imports of electronic and electrical product consumption declined (-23.4 percent), mainly due to falling demand for large and mid-sized home appliances. That said, declines in the import volume and growth of certain categories of goods does not necessarily mean consumers no longer want these types of product. It can also mean consumer demand is concentrated in categories that domestic products are unable to satisfy. According to the Ministry of Commerce, Chinese consumers still want to buy imported smart hardware, including water and air purifiers, electric toothbrushes, robotic vacuum cleaners, and photographic equipment."
Relative News
---