Hefei Meike Refrigeration Technology Co., Ltd. stepped into the ranks of "National High-tech Enterprises"
---
According to the relevant provisions of the Measures for the Management of the Recognition of High-tech Enterprises (No. 32 of the National Science and Technology Fire) and the Guidelines for the Management of the Recognition of High-tech Enterprises (No. 195 of the National Science Fire). Hefei Meike Refrigeration Technology Co., Ltd. was approved by Anhui Science and Technology Department, Anhui Finance Department, Anhui State Taxation Bureau and Anhui Local Taxation Bureau as the first batch of high-tech enterprises in Anhui Province in 2017.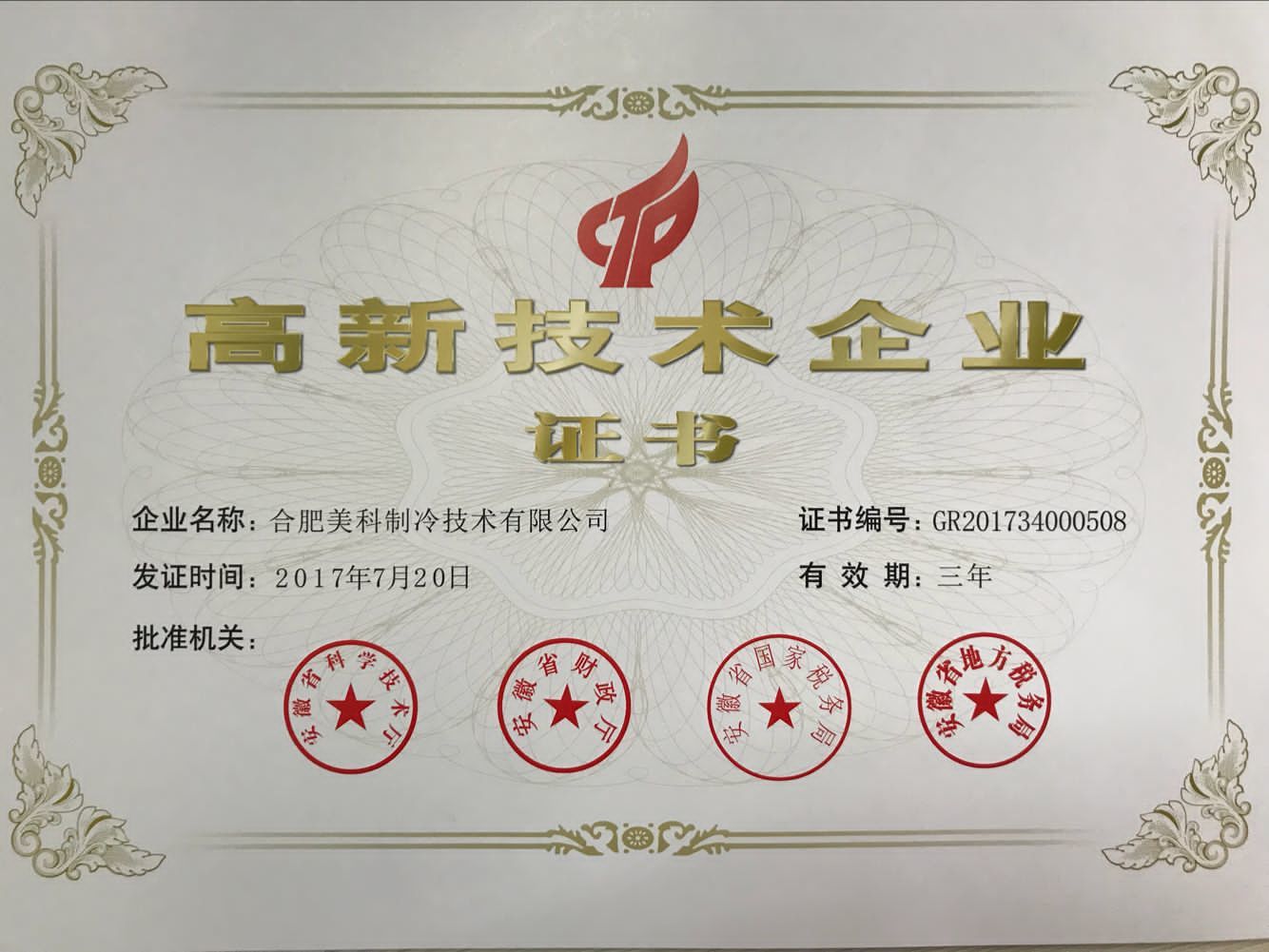 "High-tech enterprise" is a new enterprise structure vigorously supported by the state, which is of great significance to the establishment of a sustainable and harmonious economy, and has become the goal pursued by many enterprise groups. Whether an enterprise can obtain the certification of "high-tech enterprise" or not, the most important criterion is that the technology level of major high-tech achievements transformation projects of enterprises should be domestic or international advanced. At the same time, enterprises will enjoy preferential policies such as income tax after they are recognized as high-tech enterprises.
Hefei Meike Refrigeration Technology Co., Ltd. is a leading domestic supplier of integrated solutions for embedded electrical appliances manufacturing enterprises and kitchen and refrigeration industries. At present, the company has four factories in its own production and ODM manufacturing base. Hefei Meike has cooperated with leading cabinet enterprises, real estate brands and international building materials retail brands at home and abroad. Its products are exported to more than 60 countries and regions, such as Europe, America, Middle East and Africa. Its "MAGIC" is a professional brand which provides embedded electrical products for international customers. With scientific and technological innovation as the forerunner, Meiko has actively integrated manufacturing resources, adopted the strategy of ODM and self-manufacturing concurrently, and has more than 10 national patent technologies.
Relevant person in charge of Hefei Meike: "National High-tech Enterprise" is not only an honor, but also a responsibility. The certificate is not only an affirmation and recognition of our company's scientific research ability and overall technological level, but also an incentive and spur to our company's scientific research and innovation personnel, which provides confidence guarantee to our customers, and also marks that our company's technological research and development ability has been strengthened. Up to a higher level. Our company will take this as an opportunity and motivation to strive to achieve leapfrog development.
Relative News
---